Franz Koch celebrates his 35th anniversary at ETH Zurich
Anniversaries galore at Network Security Group (NSG) in the ITS-Communication division.
Phase 1
After graduating as an electrical engineer with a degree in high frequency engineering from the University of Applied Sciences Rapperswil, Franz Koch took a 50% job, starting December 1 1976, as assistant in the Department of Hydrology and Glaciology headed by Professor Herbert Lang. The job consisted mainly of supporting field researchers in the use of modern electronic measurement technology. This entailed a lot of outdoor work especially in the mountains. With time, Franz got tired of battling wind, rain and snow and started contacting remote field stations and also doing initial evaluations from his office at ETH Zurich using out-dated computer equipment and the telephone network. This allowed him to at least enjoy the cozy indoors.
Phase 2
At the time, increasing computerization demanded more expertise for the operation and maintenance of new devices. In 1983 the Department of Hydrology and Glaciology was integrated into the ETH Geographical Institute and relocated to the University Irchel campus. At the same time ETH Zurich started doing technical computing for the Geographical Institute of the University of Zurich. 1986 Franz Koch became head of operations. However «collecting» field data, which included projects like bringing «winter data» from the Greenland project (now Swiss Camp) back to Switzerland, remained part of his job.
http://www.swissinfo.ch/ger/specials/climate_change/Swiss_Camp_wacht_ueber_das_Inlandeis_Groenlands.html?cid=1329574
This afforded him the unique experience of camping in the eternal ice at 35 degrees below. All together he traveled to Greenland three times on behalf of ETH Zurich (1989/90/91). One very special experience that must be mentioned in this context is a U.S. army request for him to check out the antenna system on Greenland's highest peak (about 3000m above sea level). This entailed flying in a Hercules military aircraft and landing on ice. The return take off took almost an hour and  could take place only with the help of booster rockets.
Phase 3
In 1998, thanks to his involvement with the former ITS department Consulting & Training (ID), the opportunity arose to switch to the IT Services. Under Wolfgang Korosek he supervised part-time UNIX system administrators in institutes and professorships who were only too happy to take advantage of ITS help. From his previous experience in the institutes Franz Koch was well aware of the value of cooperation with ITS and thus from his end, he now put a lot of effort into maintaining and strengthening contact with his former colleagues in the institutes. This happened to be a pivotal concern shared by many and so a committee of IT experts (ITEK) was formed http://www.itek.ethz.ch/. A career highlight was heading the SecITEK project together with Armin Brunner https://www1.ethz.ch/secitek/. Ultimately, this resulted in four Executive Board motions being implemented by ITS.
Phase 4
As head of the SecITEK project a switch to the Communication division (ID-KOM) was self-evident. Starting with a 20% involvement which soon after increased to 100%, Franz supported Stephen Sheridan in the development and operation of the Network Security Group (NSG). In his current job with NSG his main tasks are: Secretary of the IT emergency organization, project assistance, Macintosh security, and the IT-Awareness-Program, http://www.safeIT.ethz.ch, which boasts a newly created Awareness cartoon, No.5, to illustrate IT house rules.
http://www.multimedia.ethz.ch/misc/2010/safeIT.
Addendum by Franz Koch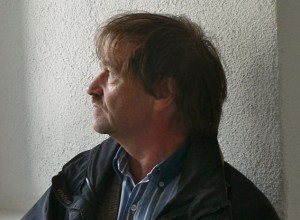 My first employment anniversary (currently loyalty bonus) was celebrated "only" after 20 years. At the time I was very proud to have worked 20 years at ETH Zurich. On my 25th anniversary, I wasn't sure whether I had reached this milestone because ETH needed me or because I hadn't found a different job in the world of private enterprise. My 30th employment anniversary I encountered with certainty. It is challenging to work 30 years at ETH and many qualities are required, e.g. the motivation for further training or the willingness to continually adapt to new circumstances. With my upcoming anniversary I realize that my professional life is slowly coming to an end. I have reached and probably surpassed my professional apex. What is still left to me is to pass on my experience from the past and thus help shape the future.
Posted on by Minda Rubinfeld
in News English