The ITS-Helpdesk  is currently facing major changes as it evolves from reactive support assistance to a proactive, highly productive and efficient service desk. As such, the Helpdesk must take a more active role, including effective communication with customers within and without the ITS. In order to supervise this development to the best of my abilities, I traveled to San Francisco, California, to gain new impressions at the University of Stanford.
It took no small effort to convince the people in charge at Stanford University to accept me as a «foreign worker» from November 2010 to February 2011. They really didn't understand what this was all about and didn't know what to expect. Fortunately during my three months stay I did not overburden the staff at Stanford ITS  and I was even able to put in some hours at the IT Service Desk. At this point I would like to thank all those who supported me in this endeavour. I especially wish to thank my Helpdesk team for their tireless efforts during my absence and Dordaneh Arangeh from VPPR (department Vice President of Human Resources and Infrastructure). «Without you, Dordaneh, contact with the Stanford people would never have come about. Thank you so much!»
Departure to California
Once all formalities were settled, I could not wait to be on my way. Not much time remained as departure date loomed ahead. I still had so much to take care of: Assemble all my travelling documents, train-in my deputy and sublet my flat. Finally in November I was on my way to California. My goal was to get an insider's view of University of Stanford's IT Services and especially their IT Service Desk. I was curious as to what awaited me.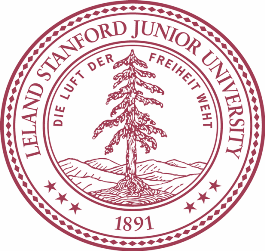 Note the German text «Die Luft der Freiheit weht».
What I encountered
A very impressive campus, a very committed team, many new acquaintances and an uncompromising focus on customer needs. However, rates for IT services were also pretty stiff. The latter could not be duplicated at ETH. Thus I experienced a different culture and way of thinking; just the right thing for some new stimulus. At my sabbatical presentation at ETH on July 13 at IFW W32.1A I noticed that most questions concerned «Stanford ITS service charges». For this reason I would like to devote a short paragraph to this topic.
IT Services rates
In the world we live in, money is always a basic issue. This is especially applicable regarding IT services in a private university like Stanford. Top priority for the ITS is therefore efficiency. Lest I be misunderstood, this is obviously also the case at ETH. But I consider the Information Technology Services (ITS) in Stanford one step ahead of us, in that each member sees himself as an entrepreneur. Efficiency, coupled with business savvy is the aspect that I would most like to introduce at ETH. In ITS offices at ETH one encounters a «free for all» approach rather than entrepreneurship. This difference is most manifest in the Stanford  service rates, which include a clearly calculated profit. At ETH, almost all services are free or charged with a symbolic fee, to avoid abuse. I think some important arguments for a decision in favour of realistic rates would be cost transparency, financial control and data analysis. This of course would increase pressure to centralize all IT services at ETH. However, such pressure can create a fertile ground for new ideas and innovation. Still, I don't think that the ITS at ETH should be run like a publicly listed company. A good compromise would be to run it like a non-profit organization. Services would be rendered at cost price at zero profit.
From the warmth back to the cold
In February, after having spent a very inspiring three months at Stanford, enjoying great weather, sunshine and the proximity of  the beautiful city of San Francisco, I had to return, almost against my will, to snowy Switzerland. On my first working day following my sabbatical, it was cold, wet and gray. The gray monolith in which my office is located would easily lose any aesthetic competition against a prison. At first sight, I was honestly not sure whether I might not have been better off staying in San Francisco. However, apparently a lot had changed in my absence, thanks to the new currents sweeping the ITS due to reorganization. I was gratified to realize that these changes concurred with my own views. There was a fresh wind blowing in our halls, there was a touch of entrepreneurship!
An interesting article about a (non) relationship between innovation and education: If you want to innovate like Da Vinci, education is overrated
http://m.techrepublic.com/blog/hiner/if-you-want-to-innovate-like-da-vinci-education-is-overrated/8383?tag=nl.e101
Anyone interested in my final report «Presentation of ITS Stanford» or having any  questions, can contact me directly.
tcoban'at'ethz.ch
Leland Stanford Junior University
The Leland Stanford Junior University (Stanford in short) is a university in Stanford (California). With an endowment of $17.2 billion dollars it is considered one of the richest universities in the world. Its reputation as one of the world's leading universities, particularly in the disciplines of engineering, IT and medicine has been confirmed in many rankings. In the Shanghai ranking ("Academic Ranking of World Universities 2009") it ranks second. Currently 14 882 students are enrolled. University President is John L. Hennessy.
Sabbatical Tolga Coban
During my stay I was supervised by Chris Lundin (Helpdesk Services). The following groups are part of Helpdesk Services:
Computing Service Desk
Technical Analyst Group
IT Operations Center
Change / Configuration Management
The department is located in the Client Support Directorate, headed by Director Jan Cicero. She is one of four directors, under Bill Clebsch, vice president of IT services. These four directorates comprise the Stanford Information Technology Services (ITS).
Posted on by Tolga
in News English