Once more, I have yielded to the arch-Tempter, the Book-Buying demon.
This time, it started when I bought (second-hand — I actually think today that only second-hand books are really authentic, unless of course the book is brand new) the translation by J. E. Woods of the novel "Joseph and his Brothers" by Thomas Mann. I expected that (like Joyce's "Finnegans wake" and Faulkner's "A Fable", which I both own and in one case read) this was only a gesture of respect for the work of a writer that I admire. To my astonishment, I read this four-part fifteen-hundred page book ("The stories of Jacob", "The young Joseph", "Joseph in Egypt", "Joseph the Provider") in a few weeks, and found it too short, and realized that it was a masterpiece. The story of Joseph and Mut-em-Ênet in the third book is, indeed, an extraordinary act of literary empathy. And this story was written in exile by a conservative sixty-year old german, when most of everyone and everything he loved was either utterly betraying his culture or was being destroyed.
Well, so when I learnt (from a blog post of the ETH Bibliothek) that — after who knows how many years of work from the editors — the commented edition of this book was appearing in April this year (the Grosse kommentierte Frankfurter Ausgabe announced it in 2008 as "in plan, 2012"), I couldn't resist and ordered it. I actually had already bought a German version of the book ("Die Geschichten Jaakobs", "Der Junge Joseph", "Joseph in Ägypter", "Joseph der Ernährer", to use the original titles), and since the available room in my apartment doesn't really allow for more than one copy of thousand pages long German books, I donated these to my colleague Ian Petrow who had told me of his liking for the "Magic Mountain".
But then, could I really keep my paperback German copies of "Der Zauberberg" and of "Doktor Faustus", when both existed in the same amply commented edition? I couldn't, donated the old ones (to the same colleague), and bought both. So here I am: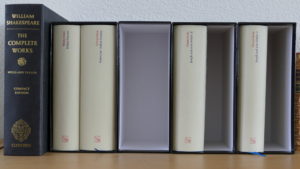 (on the left, the older (in)complete works of Shakespeare for scale).
The empty slot in the middle is that of the "Zauberberg", which I am now trying to read in German, with much help from online dictionaries. And it reminds me that I started reading "The Magic Mountain" in Rutgers (and in translation, of course), when a friend there recommended it to me, especially because of the character of Lodovico Settembrini:
Auf dem Wege von links kam ein Fremder daher, ein zierlicher brünetter Herr mit schön gedrehtem schwarzen Schnurrbart und in hellkariertem Beinkleid, der, herangekommen, mit Joachim einen Morgengruss tauschte – der seine war präzis und wohllautend – und mit gekreuzten Füssen, auf seinen Stock gestützt, in anmutiger Haltung vor ihm stehen blieb.
GFKA, p. 88
For the Yiddish version, translated by Isaac Bashevis Singer, see here.
Like Joyce, Thomas Mann died in Zürich, and his grave can be found there.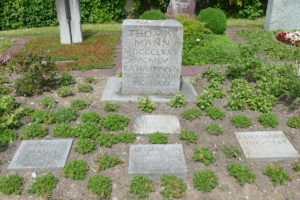 Where will the Tempter bring me next? I believe that, most likely, it will be the Opere of Primo Levi, or those of Niccolò Machiavelli, although my Italian is now rather worse than my German.