Supercomputing Conference 14 – Swiss Booth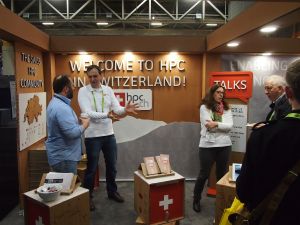 The annual Supercomputing Conference (SC) is a unique gathering of HPC (high performance computing) folks all over the world. This year's conference, SC14, is held in New Orleans. Supercomputing is a conference where almost all distinct people in the field of HPC meet. Thus in New Orleans, scientists using HPC, software developers, HPC engineers, system specialists, vendors and many more are united in one big conference. Overall about 12,000 women and men are meeting in the capital of jazz to exchange their knowledge, getting new ideas and improving their social contacts within the community.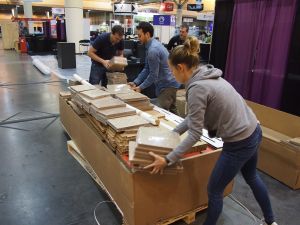 Besides of the usual keynote speeches, award sessions and presentations of scientific results, SC hosts also a big exhibition. At this exhibition, computer vendors, software companies, research centers, universities and providers from all over the world present their abilities. For the 4th time, hpc-ch, the community of the Swiss HPC providers is present at the conference with its own booth. The aim of the Swiss presence at the conference is to demonstrate that Switzerland is an important player in HPC. This should help to improve the visibility of our institutions and their research results, attract potential colleagues and improve the cooperation with commercial and non-commercial HPC sides allover the world.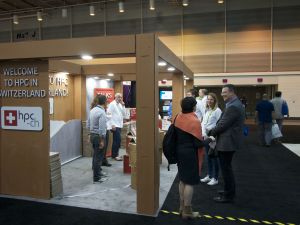 The Swiss booth is already well known as supplier of Nespresso coffee and chocolate at the conference. For this year hpc-ch – under the guidance of Michele de Lorenzi from CSCS – has lanced a completely new booth. The booth design has been inspired by the House of Switzerland. The booth is made entirely from recycled cardboard. At the opening party of the exhibition it was one of the attraction, in the huge exhibition hall.
Links
Posted on by Christian Bolliger
in News Tags: #hpcmatters,high performance computing,HPC,Supercomputing Conference,Swiss Booth