Congratulations to our ITS trainees Rania Awad and Andrea Kessler upon the successful completion of their internship! Our heartfelt thanks to the ITS staff for their dedication and commmitment in support of vocational education.
Rania Awad was a 4th year IT trainee at ITS User Services, Thomas Richter and Andrea Kessler was a 4th year media technician at ITS Multimedia Services, Philippe Koch.
At the closing ceremony each graduate receives a writing set: Head of HR Piero Cereghetti congratulates Andrea Kessler, ITS. 
Training at ETH
ETH Zurich trains around 170 apprentices. A total of 56 apprentices and trainees specialising in commercial and technical occupations have passed their final apprenticeship examination – the "Lehrabschlussprüfung" (LAP) – at ETH Zurich this year.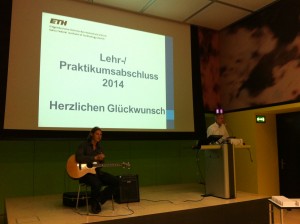 Posted on by Minda Rubinfeld
in News English