In Memory of Jacques Laville: 25th Anniversary at ETH
Every member of the IT Services can write a post in the ITS blog to celebrate 20 or more years at ETH. This post was written by ITS members in memory of Jacques Laville.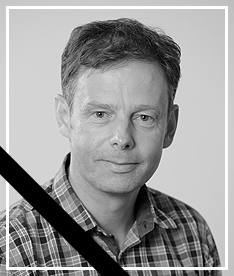 Memorial by ITS Management
"Clear vision, precise ideas, profound IT knowledge, extreme dedication and a palpable passion for deep discussions and "his" ETH. This describes the Jacques we knew and respected.
During your time at the Department of D-BIOL you were our first customer to consistently implement the NETng concept.
Your move to the IT Services in April 2013 was a strong statement of commitment, showing willingness to share our responsibility and to provide support with the goal of improving our services to meet the Needs of the departments. During the past year, you've generated a lot of new ideas which you also managed to push ahead. The SmartDesk project took on concrete form, our new Harrissa client was realized. We enjoyed many interesting discussions and you sparked many thought-provoking debates during our GL sessions.
25 years at ETH and you've left your mark. There were still so many plans to be realized but they were all halted, unexpectedly and much too early,  just before your 25th ETH anniversary."
Written by: Nico Graf, ID SDL (D-BIOL from 2007 – 2013)
"Jacques, you can move mountains."
When Jacques took a new position in 2013 at the ETH ID, the card with departing wishes from the Department of Biology IT staff contained the sentence "Jacques, you can move mountains." The reasons why this sentence had its proper place in the card are too numerous for me to list, but I would like to point to one specific example that to me is representative.
In late 2010 a few members of the D-BIOL IT had the opportunity to visit SARA (now SURFSara), the Dutch High-Performance-Computing Facility in the Netherlands. One of the highlight presentations concerned a firmly established "Scientific IT Services" or "SIS" organization, which assisted researchers with "IT consulting services" to help solve research problems. I clearly recall the enthusiasm with which Jacques embraced this idea, and his spirited discussions later during the evening with the head of the facility. This enthusiasm returned with Jacques to Zurich. A bit more than three years later, his wish became a reality as members of the newly formed ETH Scientific IT Services (SIS) division started solving research problems in many departments. With Jacques tireless dedication and his intellectual and social competence, he was able to turn an idea into a tangible, structured concept that was generally well received and successfully implemented.
On a personal level, working intensively with Jacques for the past years at D-BIOL and then at ID taught me many things. Jacques had high expectations of himself, and a passion for high quality work. His high standards extended to his peers, and he had a gift to understand and harness the talents of his colleagues. And most important for him were the users. Jacques vision of IT was as an enabler for scientists and staff to get to their jobs done more quickly. I appeared in his office many times with what I thought was the latest technological innovation, and he would simply tell me he "hated hardware". Jacques knew that technological innovation needed to match user need to be effective. On a few cherished occasions, I would then find the same gadget on his desk a few weeks later. Those moments brought a smile to my face then, and still do now. The scientist in Jacques showed itself through his strong analytical abilities, and his remarkable capacity to absorb and process technical whitepapers. I learned early to never argue with him unless facts were very solid and the research was done. Or he would know. If not right there, then the next day, usually on the bus before the first coffee.
Jacques, I am sad that you are gone. Every time I see the splash screen of a scientific application that cost hours of our work, every time I see a "last modified by Jacques Laville" in the D-BIOL SharePoint and every time I see "Sherlock" on the ID-SharePoint, my heart is heavy. These little marks you left will fade over time, but your memory and your legacy of moving mountains at the ETH will not.
To view the entire article please visit the German post.
Posted on by Minda Rubinfeld
in News English Tags: Jacques Laville