polybox quota from 5GB to 50GB
As of July 1, 2014 the IT Services offer all ETH members 50GB polybox storage!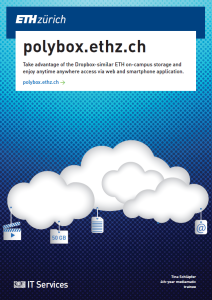 Since a year ago the polybox service is being used extensively. We are gratified with the large amount of positive feedback letting us know how useful this service is.
Your polybox team
Julian Senn, Gianluca Caratsch und Dr. Tilo Steiger
polybox on the ITS-Blog
Posted on by Minda Rubinfeld
in News English