There is a growing demand at ETH for a "Dropbox"-similar storage medium.This stems from the rising need to simplify internal data exchange for all ETH members and the wish to avoid the use of ETH-external (uncontrollable) storage media.
Collaboration IT Services – ETH
ITS, in collaboration with representatives of the Departments of Mathematics and Physics, evaluated current market trends and chose the company "ownCloud" as their partner. Other department representatives have also been informed and received a detailed description of future collaboration.
"ownCloud"
The management at ownCloud grasped ETH requirements and developed a special version that will initially be used primarily in colleges and universities. The ETH is one of the world's first universities to offer its members ownCloud service.
Service «polybox.ethz.ch»
ITS System Services (ID SD), as the internal service provider, will provide "polybox.ethz.ch" service with 5 GB of storage on the ETH storage facilities. The following simple formula describes the use case very well:
"polybox – Use it as a logical memory stick – store your data on the ETH campus"
polybox thus meets the requirement to store exchange data on ETH storage facilities.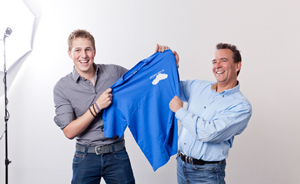 Julian Senn and Tilo Steiger (ITS System Services, Storage): Responsible for polybox Service
polybox Launch
Starting May 2013, the service will be available to all ETH members free of charge. ETH-customized sync clients and mobile apps for iOS and Android will also be provided. The  ETH apps and sync clients inform ETH users that their data is stored at the ETH. polybox is based on the ETH Zurich Identity Management system. Authentication and authorization will be provided by nethz user management.
How to use polybox
Following testing phase and release anyone interested can use the service polybox. Starting May 2013, users can login to http://www.polybox.ethz.ch/ with their nethz login. A detailed guide and support contacts will shortly be available on the ITS service pages.
Sympa subscription for service information
Once the service is up and running, ETH members interested in obtaining service information will be able to subscribe to the "polybox-Info" mailing list. Log on to the Sympa-list (ETH Maillist-Server) https://sympa.ethz.ch  > SWITCHaai Federation >"Los" > nethz login. In the header click "List of lists" > select "polybox-info@sympa.ethz.ch"  from the mailing list > click on  "Abonnieren" from the sub-navigation on the left side. You are now on the mailing list and will receive an email confirmation.
Posted on by Minda Rubinfeld
in News English