The following statement is often included in any future-oriented procurement strategy: "The procurement strategy of a company determines its framework conditions. The former ensures that funds used for the entire service portfolio add value and contribute to the overall success of the company".
Inevitably the question arises: "What do portfolio management and procurement have in common? More specifically, what is the connection between IT portfolio management and IT procurement?
IT procurement, an IT process
When talking about IT procurement, we do not necessarily think of an IT process. At first glance the term seems to be referring to administrative procedures which help establish certain routines and automated processes. However, IT procurement is much more than that; it represents one of the key processes necessary for optimal management of the entire IT portfolio.
To ensure successful interaction of IT procurement with IT operations, the procurement process must be smoothly integrated into existing processes via an IT service concept. Standardization and partial automation of certain procurement processes is absolutely essential for this.
New ITS division "IT Procurement & Portfolio"
In order to effectively implement this strategic aspect of IT procurement, early 2012, the IT Services established a new operational division "IT Procurement & Portfolio (ID PPF)". Task of the division is on the one hand, the optimization and automation of administrative procurement processes, and on the other hand, the seamless integration of IT procurement in the management of all IT service lifecycles.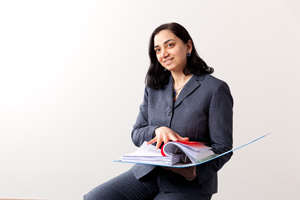 Dordaneh Arangeh, Head ITS IT Procurement & Portfolio, offers ETH- wide support in IT procurement.
One of the key challenges this presents stems from the fact that in accordance with IT service requirements all procurement, including systems and services, must be specified. In addition, actual customer needs must necessarily be reflected in the Service Catalog. Thus it has become increasingly clear that only by closely linking IT procurement with IT portfolio would more effective and efficient management of all IT services be attained.
Thanks to the support of the division "IT Procurement & Portfolio" this strategic objective will soon be achieved.
New Projects
The following projects have already been launched or are currently in the planning stage:
Introduction of a standard tool (Planview) which supports project portfolio management (PPM)
Automation of IT procurement using application workflows in ETHis
Development of a systematic and semi-automated vendor management system (Dynamic CRM)
Introduction of a service portal with self-service interface for the purpose of an automated "IT Service Management Framework (ITSM)."
Posted on by Minda Rubinfeld
in News English