Planning an event? Whether a large conference, a small workshop or hosting a distinguished guest speaker, ITS MMS can help you with any event.
Our services range from providing hand-mics and general auditorium support to auditorium-auditorium video transmission and publishing your recording via the Multimedia Portal. We can also coordinate your event with third parties (ETH Division for Events & Location Development, Corporate Communication, Room Reservation) if needed.
 A new brochure is now available online providing detailed service information. For a print copy (or two) contact us by e-mail.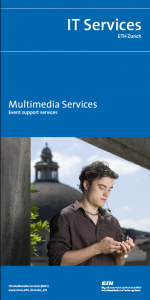 Posted on by Sabine Hoffmann
in News English Tags: conference, event, MMS, workshop