ETH IT-Services start silver jubilee with running team at SOLA
In 2011 ETH IT-Services celebrate 25 years of existence. The same is true for the inforunners, the running team of IT-Services. They finished their 25th SOLA relay race ranking 336th. A cheering crowd saw  ETH Vice President of Human Resources and Infrastructure and CEO of IT-Services a.i. Roman Boutellier cross the finish line in a good time and with the nice weather on his side. This marked the near completion of the second task ETH IT-Services are traditionally responsible for: The time keeping for the 788 teams of this year.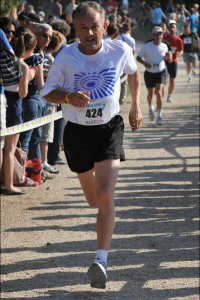 Team member Roman Boutellier Vice President of Human Resources and Infrastructure a.i. finishes the 38th SOLA relay for the Inforunners of IT-Services ranking 336th.
While 25 years might appear to be an impressive jubilee, it is dwarfed by the 36 years and counting that Peter Wegmann and Franz Kuster are responsible for accurate time-keeping at SOLA. Their recent retirement from their jobs at IT-Services does in no way seem to have an effect on their calm and yet enthusiastic execution of this important task at SOLA.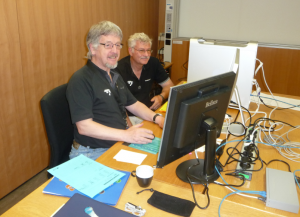 Peter Wegmann and Franz Kuster of ETH IT-Services on top of SOLA time keeping for the 36th time!
Continuous persistently high quality of service is as much a challenge for the inforunners cross country team as it is for all 233 employees of ETH IT-Services. During the coming years IT-Services will be expected to contribute to the substantial growth of ETH both in numbers of students as well as in means aquired from third party by delivering a growing volume of excellent services at an unchanged cost.
The director of IT-Services ad interim Roman Boutellier emphasized this expectation by running the last few of the almost 120 kilometers wearing the T-shirt of ETH IT-Services.
Posted on by Mathias Egloff
in News English