Welcome to the Jungle, Part 2
Two different formats for presentations: How does this function in auditoriums and conference rooms?
As mentioned in our previous "Welcome to the Jungle" post, during the transition period  presentations can be made in two different formats: the traditional 4:3 and the modern 16:9. How does this function in auditoriums and conference rooms?
Widescreen has been a hot topic for MMS IS members these past few years, being that they are in charge of acquiring and replacing projectors and other relevant equipment used in auditoriums and conference rooms. In the meantime however, 16:9 is so firmly established in the market that today 75% of projectors in ETH auditoriums and conference rooms are widescreen. Projectors in larger auditoriums can easily adapt to either 4:3 or 16:9. However, on screens in smaller rooms, a "pillerbox" effect, familiar from local TV, will occur.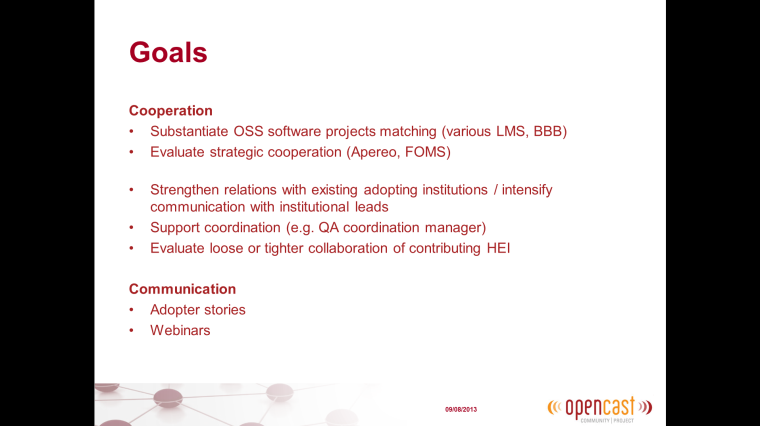 Two black bars on both sides of the image indicate the "wrong" format. Since the projector usually illuminates a dark background these bars are not noticeable.
The MMS PD group, in charge of event recording, is also affected by the switch. Here too, 16:9 was established as standard format at the same time that film production switched to HD five years ago. However this has only now become relevant for event recording. The introduction of mobile HD direction has made it obvious that widescreen camera clashes with the traditional presentation format. The effect can be seen in HG F30, which was converted to HD a year ago:
Source: Multimedia Portal 
To summarize: We will just have to put up with these irregularities for the next few years – it's the price that we must pay for the desired switch, especially in television, to widescreen format.
Contact
Olaf Schulte, ITS MMS, Group Manager Production & Distribution
Posted on by Minda Rubinfeld
in News English