Summer Vacation: Out-of Office email auto-reply and PC off
The IT Services wishes all ETH employees wonderful summer holidays. Turn off before you take off! We would like to remind everyone to shut down all PCs and monitors as well as all other devices (clients, test equipment, etc.). Do not leave devices in standby. In addition to promoting IT security, you will be making your personal contribution to environmental protection (power save).
Out of Office email auto replies
Please make sure that you have set an out-of-office auto reply when away from ETH. We recommend not leaving this for the last minute. Many Out of Office auto replies give the impression that they were set up almost as an afterthought.
They often seem unprofessional and rude and contain incorrect dates or spelling. Guidelines and instructions, also covering ETH Zurich signature, can be found in the ETH Zürich Corporate-Design-Manual  (German / nethz Login) under the heading «E-Mail».
Common Out of Office reply blunders
◾No salutation
◾No signature
◾Text in lowercase
◾Incorrect spelling
◾First-person style
More information in our posts
IT Security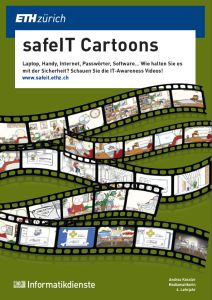 Posted on by Minda Rubinfeld
in News English