Talking shop under the heavens, on the roof of Rechenzentrum
On land, on sea and in the air – D-USYS shop talks.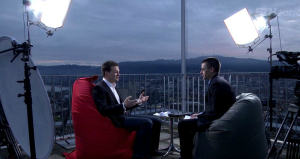 New ways of communication
At the initiative of Dr. Oliver Stebler and Prof. Dr. Reto Knutti, D-USYS is breaking new ground in communication with the (scientific) public. Since the beginning of the year, the regular "shop talks" cover scientific discussions on topics like climate research, climate change and climate policy. The talks, which are on a qualitatively high level, are recorded and made available to all interested parties.
ITS MMS on the job
Due to the high complexity of these recordings, production can be challenging for MMS PD (Production & Distribution). We use up to six different static and moving cameras (crane) and must also deal with demanding locations, be it either on the roof of CHN, at the airport – or coming up, at Lake Lucerne.
Posted on by Minda Rubinfeld
in News English