Lunchtime Meetings: Home of FIFA
On Friday April 12, 26 ITS members visited the Home of FIFA on the Zürichberg.
In November 2012, "Kontakt über Mittag" (Lunchtime Meetings)  visited the FIFA Endowed Chair headed by Prof. Dr. Marcy Zenobi-Wong. At the time we learnt about FIFA cooperation with the ETH.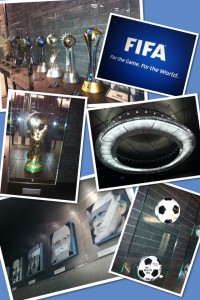 This made our visit to the Home of FIFA especially exciting. The Home of FIFA is the headquarters of the world's governing body of football, built by the Swiss architct Tilla Theus.
"Kontakt über Mittag"
"Kontakt über Mittag" was first established two years ago, in 2010. The IT Services (ITS) has more than 200 employees who are spread out in about 15 different buildings. "Kontakt über Mittag" provides an opportunity for cross-departmental activities in small groups. During these lunchtime meetings we get to meet interesting personalities, learn about exciting research at ETH and visit historical or simply fascinating parts of ETH Zurich. All ITS employees are welcome to join. Participation is limited and on a first come first serve basis.
For more details visit our German blog.
Posted on by Minda Rubinfeld
in News English