The Swiss Science Foundation (SNF in German, FNS in French) publishes a regular magazine that surveys current topics concerning science and research in Switzerland. It often highlights subjects that are unexpected and interesting in all areas of science, from the humanities to forestry, the deterioration of prussian blue in paintings and so on, and does so in its three parallel editions, in English, French and German.
The last issue has a special focus on Open Science in its various forms. For some reason, although there is no discussion of Polymath per se, the editors decided to have a picture of a mathematician working on Polymath as an illustration, and they asked me if they could make such a picture with me, and in fact two of them (the photographer is Valérie Chételat) appear in the magazine. Readers may find it amusing to identify which particular comment of the Polymath 8 blog I am feigning to be studying in those pictures…
Besides (and of greater import than) this, I recommend looking at the illustration pages 6 and 7,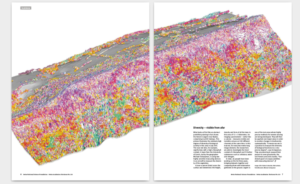 which is a remarkably precise computer representation of the 44000 trees in a forest near Baden, each identified and color-coded according to its species… (This is done by the team of M. Schaepman at the University of Zürich).