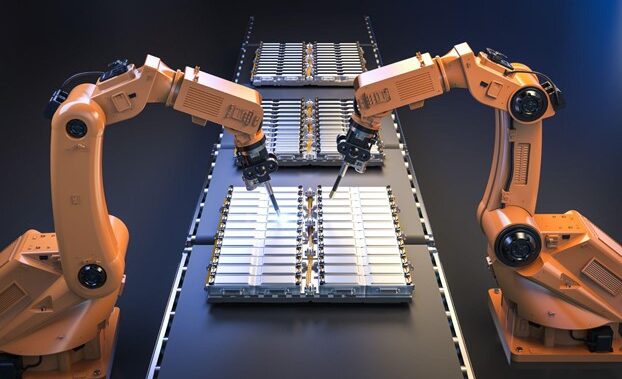 America's Inflation Reduction Act is asking too much of car manufacturers and electric vehicle supply chains
On 06.12.2022 by Bessie Noll
Bessie is a PhD candidate with the Energy and Technology Policy Group at ETH Zurich as part of the European Union's Horizon 2020 research and innovation programme under the Marie Sklodowska-Curie (MSC). Her research focuses on the clean road transport transition and how policy intervention can accelerate low-carbon vehicle adoption in different applications.
America's recently passed climate law, the Inflation Reduction Act (IRA), provides strong support for accelerated adoption of clean vehicles in the US. Subsidies are generous for consumers looking to go electric, but only for vehicles that meet strict geographic requirements for critical mineral sourcing, battery manufacturing and vehicle assembly. Unabashedly, the US is seeking to shift the EV supply chain from China to North America, but at what cost?—I discuss whether the isolationist IRA is the right move for the US and, more importantly, the climate.
---
The electric vehicle (EV) revolution motivates a radical shift in the way we own and operate a car—how we drive, how, where and when we charge, how we are taxed for energy consumption or road usage. It also motivates a transformation of the way we design and manufacture cars.
Central to the design transformation is the lithium-ion (Li-ion) battery. Impressive cost reductions, technology improvements and strong policy support have propelled the Li-ion battery to the seemingly uncontested forefront of the clean road transport transition, for both cars and now increasingly trucks.
Over the course of just a decade, China has seized the global EV supply chain
Central to the manufacturing transformation is the EV supply chain. Complex, dynamic and geopolitically fraught, the EV supply chain comprises five core stages each with their own material requirements, knowledge base, manufacturing know-how, and geographic dependencies (Figure 1).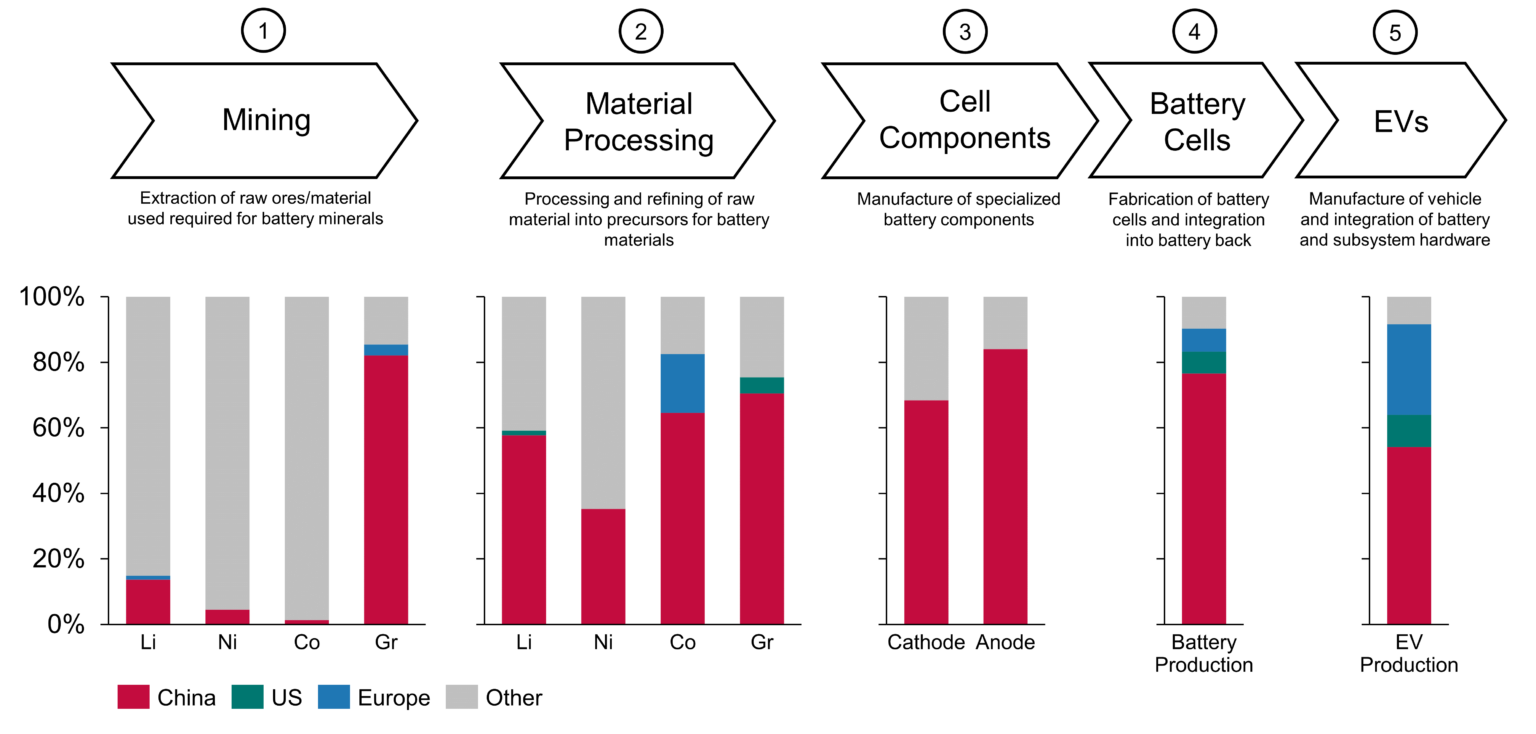 Figure 1. Geographic distribution of the global supply chain for battery electric vehicle production. In stages 1 and 2, raw materials are mined, refined and processed; specialized battery components are then manufactured and integrated into the battery cell or larger pack in stages 3 and 4; in stage 5, the vehicle is manufactured. Lithium (Li), Nickel (Ni) and Cobalt (Co) are primary battery cathode materials. Graphite (Gr) is the primary battery anode material. Own graphic modified slightly from the International Energy Agency report.
Over the course of just a decade, China has seized the global EV supply chain (red color in Figure 1). From an industrial policy perspective, this constitutes a remarkable near monopoly of a pivotal supply chain for the global clean energy transition. A meager second if not third place contender is Europe, where investment in battery gigafactories, primarily stages 3 and 4 in Figure 1, has increased (though dwarfed by China's plans) and where local car manufacturers are frantically ramping up EV production (at a fraction of China's speed).
Then there is the US. Which, by the hand of one (heavily government subsidized) company—Tesla—makes only a minor appearance in Figure 1. Catching up to China is a tall order. Thus the impetus for America's Inflation Reduction Act—an industrial policy first, climate policy second financial investment into itself.
Localizing a globalized industry is a shock for automakers
Passed by congress in August of 2022, the IRA includes nearly $370 billion worth of clean energy and climate incentives. One key aim of the act's transport-related provisions: establish a fully domestic(ish) EV supply chain that emphasizes local manufacturing and champions energy security and independence from foreign competitors, allies be darned. A geopolitical flex to say the least. Lest we forget a follow-up, albeit secondary, key aim: accelerate domestic EV adoption vis-à-vis sticker price subsidies for select vehicles that fit strict "Made in America" requirements in order to reduce greenhouse gas emissions from transport.
Upon first glance, the clean transport provisions included in the act look strong. Tied to these provisions, however, are strict requirements. Let's look in particular at the eligibility requirements for federal level new EV subsidies, which are divided into two sub-levels for a combined overall subsidy of $7500/vehicle. Half of the subsidy is available if a specified percentage of battery components are manufactured or assembled in North America and the other half is available if a specified percentage of critical minerals are extracted or processed in the US or other Free Trade Agreement (FTA) partners or recycled in North America. To cap it off, final vehicle assembly must also be within North America. Subsidies take effect in January of 2023, at which point 40% of critical minerals and 50% of battery components must follow these geographic constraints. Percent value requirements only ratchet up from there (Figure 2).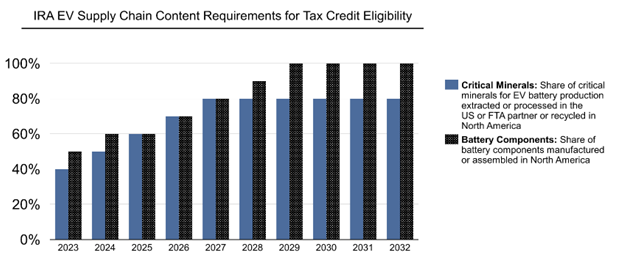 Figure 2. The Inflation Reduction Act includes conditional tax credits for electric vehicles. Tax credits issued are based in part on pre-defined sourcing requirements for critical minerals for EV battery production and for battery components. Own graphic based on IRA requirements.
Suffice it to say, the IRA is a tremendous ask of car manufacturers selling in the US, the majority of whom currently source their critical materials and manufacture their battery components outside of North America and other FTA partners. A number of US and foreign automakers, some better positioned than others, are apprehensive about their ability to deliver eligible EV models in time.
For the climate, time is of the essence, but the IRA cannot solve supply chain shortcomings in the near future
Indeed it appears that American climate policy-makers have acted ambitiously in their own self-interest. To contextualize, I posit two questions on the efficacy of the clean vehicle tax credit provisions of the IRA: Can the US do this? And should the US do this?
1) Can the US do this?
The first question speaks more to the efficiency and success of the act than the legality of its provisions. Recall the two key IRA aims previously discussed: secure a domestic EV supply chain and reduce carbon emissions. From the latter perspective, success appears constrained. The balance is arduous and in many ways contradictory: accelerate EV sales at an affordable price point all the while meeting strict domestic supply chain constraints. Presently, automakers in the US cannot do both—at least not in the near term. When the new EV tax credits come into effect in January 2023, less than 30% of EV models sold in the US will be eligible for full subsidy. America cannot afford to limit subsidy eligible EVs, especially when demand outweighs supply. From a domestic industry perspective, success appears imminent. Since the signing of the IRA, more than $13 billion of investment, largely from foreign companies, into North-American critical material production and battery and EV manufacturing has been announced. Promising as these announcements may seem, gigafactories take a few years to develop—mines closer to 7+ years—and are often plagued with delays. Bloomberg estimates an increase in US EV sales post-IRA, but what would sales projections look like with less strict supply chain requirements? The IRA may secure a domestic battery and EV industry in the mid to long-term but is limiting EV adoption in the short term when emissions reductions are needed most.
2) Should the US do this?
Even if the US can do this—does that mean it should? In effect, the IRA decouples America from global clean-technology supply chains. For battery supply chains in particular scholars argue for diversified supply chain and R&D strategies. Critical materials are globally traded commodities because they are sourced globally. Does a "North-America+FTA-partner-made-battery" even make sense? Resource wise, perhaps?—at medium demand levels. Cost and environmental performance wise, hardly given higher electricity prices and heavy natural gas reliance in parts of the US. Globally, the rest of the world also stands to lose from US isolationist policy. A recent EU document challenging the IRA rightly points out that the act turns a "common global objective—fighting climate change—into a zero-sum game." No one benefits from a trade war. From a European standpoint the IRA is both worrisome and problematic, but escalating the situation further by implementing retaliatory subsidies of their own could invite backlash from other trade partners.
One step too far
It is difficult to be too critical of the IRA. Ultimately, it is a large financial investment into clean technology at a highly opportune moment. For a polarized nation politically at odds on the topic of climate change, prioritizing local jobs and industry was the workaround to successful enactment. However, I would argue here that the US took this isolationist policy one step too far. Globalization is essential for EV supply chain resilience, and frankly, there is no reason the burgeoning green auto industry should be impeded by cold war-esque geopolitics.
---
Cover photo is ETH-licensed from Adobe Stock.
If you are part of ETH Zurich, we invite you to contribute with your findings and your opinions to make this space a dynamic and relevant outlet for energy insights and debates. Find out how you can contribute and contact the editorial team here to pitch an article idea!

Authors
Search
Contact
Energy Science Center (ESC)
ETH Zurich
Contact
Energy Science Center (ESC)
ETH Zurich